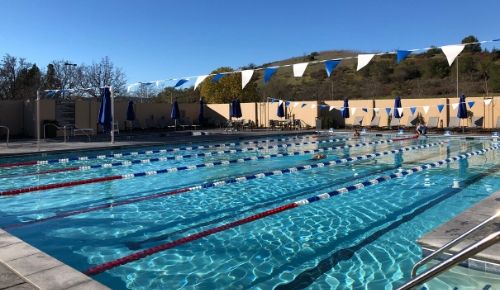 ClubSport San Ramon offers swimming and other aquatics programs for children and adults of all ages, swim skill levels, and interests -- from beginner to advanced. Located in San Ramon, CA, we have 2 outdoor heated pools, including our newly remodeled lap pool and a junior pool perfect for youth swimming lessons.
Aquatics activities included with your monthly ClubSport San Ramon Membership:
Water Fitness Workouts / Aqua-Aerobics
Lap Swims
Coached Workouts
Masters Swimming Program (Will restart in Summer 2023)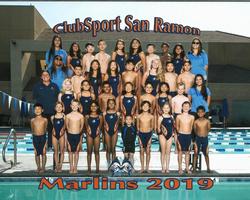 ClubSport San Ramon
Marlins Swim Team:
5-18 Year Olds
Swim Team not held 2021 season
Will return 2022 Season
_______________________
Click here to Contact Aquatics Department
_______________________
2020 Swim Team Fees
$525 Members • $625 Non-Members
Fees Cover:

All Swim Practices (Spring & Summer),
including Personal Training Exercises
Swim Meets & League Fees
Marlines Swim Cap & Team T-Shirt
$525 Members • $625 Non-Members
Member Sibling Discount:
$50 off the Member Price for each additional sibling registered

** Parent Volunteer Deposit Also Required **
All parents must pay a $150 volunteer deposit upon registration. You will receive this deposit back at the end of the season once you have volunteered a total of 20 hours.
More Information about the ClubSport San Ramon Marlins
The CSSR Marlins is a competitive Summer Recreational Team open to Members and Non-Members of ClubSport San Ramon. ClubSport is a member of the Valley Swim League (VSL) and USA/Pacific Swimming.
The Marlins compete with other teams from the San Ramon/Pleasanton/Livermore area in the summer season. The Marlins coaching staff works to provide a positive and enjoyable team environment and looks forward to helping develop your child's swimming abilities, confidence, and self-esteem.
Visit the Swim Team website at www.CSSRMarlins.org
New! Pre-Swim-Team Program
Ages 5 to 17
Members & Non-Members Welcome
Not sure if your child is ready for Swim Team? Consider our new Pre-Swim-Team Program! This program is offered in a swim clinic environment that is facilitated as a swim practice and is designed to help swimmers gain the confidence and skills necessarily to participate in the swim team. Spring workouts are held at the same time as regular swim team so your child experiences the positive team energy, too!
Monday - Thursday
Session 1: Dates TBA (4-5 pm)
Session 2: Dates TBA (4-5 pm)
Session 3: Dates TBA (8-9 am)
$175.00 Per Month*
Note: In some cases we may need to move your child from the group you signed up for to one that is more appropriate and consistent with the level of other swimmers in the group.
*Swimmers are not required to transition to the swim team or to compete if they do, but moneys paid for these pre-swim team clinics are credited towards any swim teams fees should your child make that transition.
*Cancellations must be received 7 days in advance to receive a refund.
Click here to Contact Aquatics Department
Or Us at (925) 735-8500
Questions?