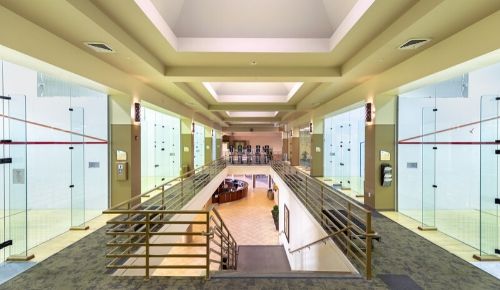 Squash and Racquetball in San Ramon
ClubSport San Ramon's state of the art squash courts and racquetball courts lend themselves to play at many levels, including competitive East Bay Squash League play and other tournament play.
Want to learn how to play squash or level up your squash game? You have come to the right place!
Squash Clinics & Private Squash Lessons
Whether you are new to squash or a seasoned player, when you are ready to work on improving your squash game, we are here for you!
Junior Squash Program
The ClubSport San Ramon popular Junior Squash Program brings junior squash players together for private lessons and group training. It has proven to be a great way for the kids to make new friends, train hard and have a good time. A variety of events are held at ClubSport San Ramon to make the learning and competition fun for all.
Squash and Racquetball Court Reservations
Squash and Racquetball courts may be reserved 3 days in advance. All players' names must be given when reserving a court. Squash & Racquetball courts may be reserved in blocks of time ranging from 1/2 hour to 1 hour, 1 hour max, per person, per day. Members are granted a ten-minute grace period to claim their court reservation; after the grace period, courts may be reassigned and players will lose booking privileges for 1 week
__________________