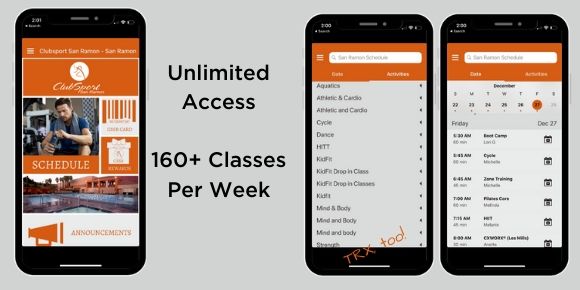 Group Exercise Classes at ClubSport San Ramon
Outdoor classes are available.
Covid-19 Update 2/6/21: Members are not required to wear a mask while participating in outdoor fitness & outdoor group classes, as long as they remain 6+ feet apart. Masks are required at all other times when walking to and from designated workout area.
---
All classes will be limited in size and available on a reservation basis. Upon making a reservation, the $10 class fee will charged. Members only at this time. Must be 18 and older.
---
Join us for a live workout class on Instagram and Facebook every weekday!
---
Current LIVE Workouts Schedule
Monday, Wednesday, Friday, 10:30am
Total Body Workout
Instructor: Carrie
________
Tuesday, Thursday, 10:30am
Instructor: Gloria
If you are participating in the Yoga Challenge, please comment watch and
comment on the Facebook, Instagram, or YouTube video to earn points!
If you miss a live class you can access it later on either Facebook or Instagram.
If you miss a live class you can access it later on either Facebook or Instagram.
Click here to sign up for a class!
---
ClubSport San Ramon offers a variety of Group Classes every week, all included as part of your membership (once monthly membership dues resume, date TBD).
This includes various kinds of HIIT cardio, strength and core, as well as TRX, Dance, Cycle, Yoga and Aqua Aerobics. Truly, we offer something for everyone and enough options so you'll never run out of choices to keep your workouts on target and interesting.
The best way to get the most up to date schedule information is to download the ClubSport San Ramon App.
It's accessible whether you are a member yet or not, so if you're considering joining ClubSport San Ramon, download and do a deep dive so you can plan how you will get the most out of your 3-day free trial.
Click to Download App for iPhone
Click to Download App from Google Play
Other Important Quick Links for Schedule Information
Squash and Racquetball Court Schedule
Social and Special Events Calendar
__________________