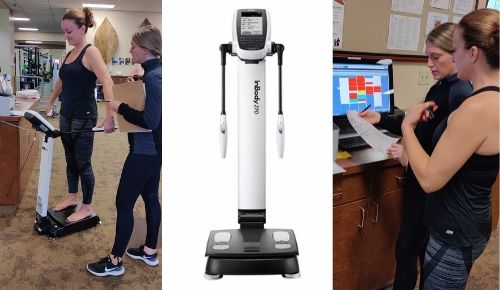 InBody Test at ClubSport San Ramon
With InBody, our ClubSport San Ramon Members get important body composition data plus elite personal trainer expertise to help translate that information into a more efficient workout!
Most people use a normal scale to track their weight loss or weight gain progress. But the number on the scale does not tell the whole story.
Your body is made up of muscle, fat and water, so losing weight does not necessarily mean you are losing fat. And gaining weight does not necessarily mean all fat has been gained.
With the InBody test we are able to identify exactly where the weight is being gained or lost from. The InBody records not only the user's weight but the skeletal muscle mass, water weight and body fat percentage.
The InBody uses a bioelectrical impedance signal through the body via hands and feet in less than 15 seconds.The results sheet will provide a detailed composition that can be used to lose fat, dial in your nutrition, identify muscle imbalances and much more.
This will give you your baseline and information to guide you on the path to achieving your goals!
FAQ: How much does the InBody Test cost at ClubSport San Ramon?
While the retail value of the InBody test is at least $50, our ClubSport San Ramon members don't pay anywhere near that price. As a Member, you'll pay between $0 and $25 based on the following options:
All MEMBERS -- you pick the option that works best for you:
1. Pay $25 Member Discounted Member Price for InBody Test
2. Redeem 500 Perkville Membership Rewards Points
3. Buy a Personal Training Package -- Unlimited InBody testing is complimentary with all active packages.
NEW MEMBERS:
Your first InBody Test is currently free, as are the 3 ClubFit Jumpstart Trainings and other new member bonuses! Learn more about ClubSport San Ramon new member promotions by clicking here.
FAQ: How do I sign up for the InBody Test?
Contact the Front Desk!