Squash
ClubSport San Ramon's state of the art squash courts and racquetball courts lend themselves to play at many levels, including competitive East Bay Squash League play and other tournament play. Want to learn how to play squash or level up your squash game? You have come to the right place!
General Information
The Squash program at ClubSport San Ramon is focused on providing a great workout and friendly competition for all ages. Squash provides an excellent cardiovascular workout. For its fast pace and requirement of mental agility, it has been described as "jet-propelled chess". In one hour of squash, a player may burn approximately 600 to 1,000 calories.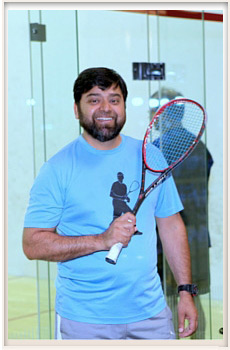 Tournaments
Periodically we offer one or two day tournaments to continue the fun. Prizes are awarded to the winners and different divisions make for a challenging tournament.
Clinics
Improve your skills by participating in our group clinics. This is a fantastic way to challenge fellow squash players while getting tips from our squash pro.
Private Lessons
One-hour private lessons are available with our squash pro. From beginner to advanced, these lessons are catered specifically for you.
Take advantage of this time to brush up on skills, learn new moves and receive instruction that will help you better your game.
Click Here For Squash Court Schedule
Junior Squash at ClubSport San Ramon
Junior Squash program being the junior squash players together for private lessons and group training. It has proved to be a great way for the kids to make new friends, train hard and have a good time. A variety of events are held at ClubSport San Ramon to make the learning and competition fun for all.
Court Reservations
Squash and Racquetball courts may be reserved 3 days in advance. All players' names must be given when reserving a court. Squash & Racquetball courts may be reserved in blocks of time ranging from 1/2 hour to 1 hour, 1 hour max, per person, per day. Members are granted a ten-minute grace period to claim their court reservation; after the grace period, courts may be reassigned and players will lose booking privileges for 1 week.