ClubSport San Ramon's Swim Team is paused until further notice.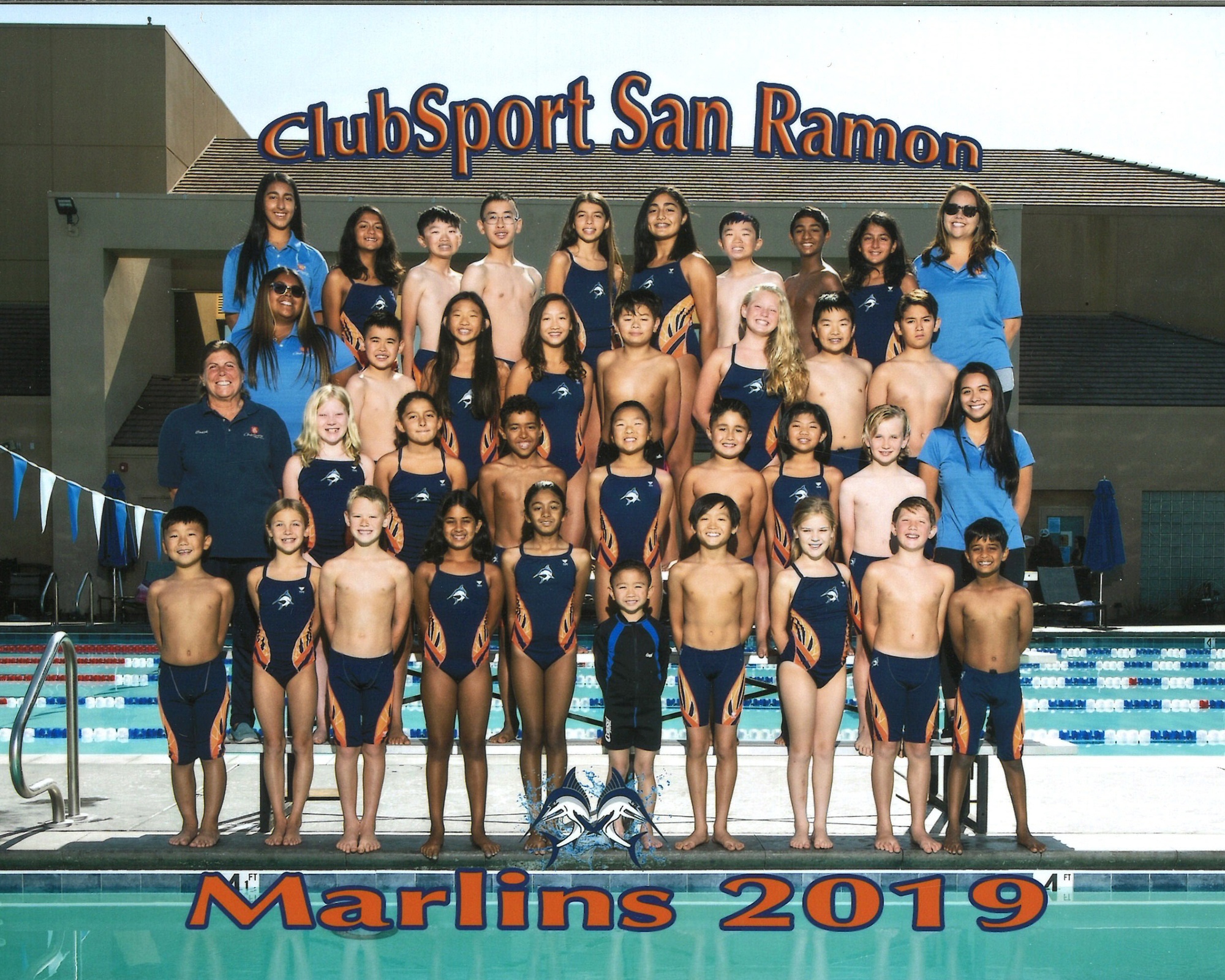 ClubSport San Ramon Marlins Swim Team:
5-18 Year Olds
Open to Members and Non-MemberS
_______________________
_______________________

Swim Team Fees (Subject to change)
$525 Members • $625 Non-Members
Fees Cover:

All Swim Practices (Spring & Summer),
including Personal Training Exercises
Swim Meets & League Fees
Marlines Swim Cap & Team T-Shirt
$525 Members • $625 Non-Members
Member Sibling Discount:
$50 off the Member Price for each additional sibling registered

** Parent Volunteer Deposit Also Required **
All parents must pay a $150 volunteer deposit upon registration. You will receive this deposit back at the end of the season once you have volunteered a total of 20 hours.
More Information about the ClubSport San Ramon Marlins
The CSSR Marlins is a competitive Summer Recreational Team open to Members and Non-Members of ClubSport San Ramon. ClubSport is a member of the Valley Swim League (VSL) and USA/Pacific Swimming.
The Marlins compete with other teams from the San Ramon/Pleasanton/Livermore area in the summer season. The Marlins coaching staff works to provide a positive and enjoyable team environment and looks forward to helping develop your child's swimming abilities, confidence, and self-esteem.
Visit the Swim Team website at www.CSSRMarlins.org
New! Pre-Swim-Team Program
Ages 5 to 17
Members & Non-Members Welcome
Not sure if your child is ready for Swim Team? Consider our new Pre-Swim-Team Program! This program is offered in a swim clinic environment that is facilitated as a swim practice and is designed to help swimmers gain the confidence and skills necessarily to participate in the swim team. Spring workouts are held at the same time as regular swim team so your child experiences the positive team energy, too!
Monday - Thursday
Session 1: Dates TBD (4-5 pm)
Session 2: Dates TBD (4-5 pm)
Session 3: Dates TBD (8-9 am)
$175.00 Per Month* (Subject to change)

Note: In some cases we may need to move your child from the group you signed up for to one that is more appropriate and consistent with the level of other swimmers in the group.
*Swimmers are not required to transition to the swim team or to compete if they do, but moneys paid for these pre-swim team clinics are credited towards any swim teams fees should your child make that transition.
*Cancellations must be received 7 days in advance to receive a refund.
Off Season Training: Swim Team Workshops
As a competitive swimmer, one of the worse feelings is the beginning of a new swim season and you're not as good as you were the previous season. More times often than not, it all comes down to how you trained in the off season. Here at ClubSport San Ramon, we want to give you that competitive edge year round through our swim team workshops. Whether you want to swim for the Mighty Marlins, or swim for your local high school team, how you train in the off season will dictate the edge you are looking for.
WORKSHOPS
Ages 5-17 years old
Class: Monday - Thursday
*Prices Subject To Change*
| | |
| --- | --- |
| Members | Non-Members |
| 2 days a week: $125 | 2 days a week: $160 |
| 4 days a week: $165 | 4 days a week: $200 |
Beginners: Ages 5-11
Swimmers must know freestyle with side breathing and be able to swim 2 lengths nonstop of each stroke; freestyle & backstroke. Swim team experience is preferred.
Intermediates: Ages 5-11
Swimmers should be proficient in all 4 strokes. Swim team experience required.
Advanced: Ages 9-17
Swimmers should be proficient in all 4 strokes and familiar with starts and turns. Swim team experience required.
Questions?
Click to message ClubSport San Ramon's Aquatics Department