Welcome to ClubKid!
The Childcare department is open for drop-ins
No reservations required.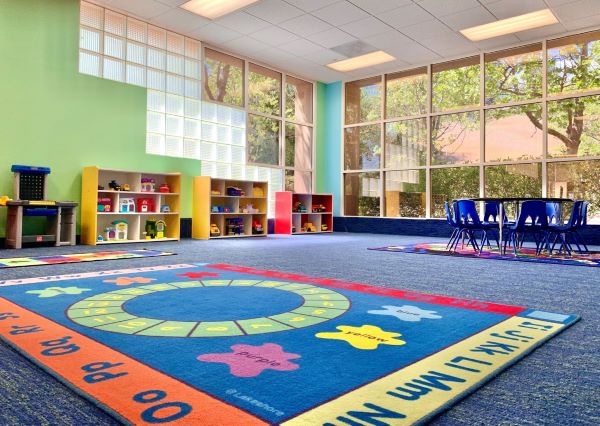 ClubKid Regular Hours:
Monday-Friday
8:00am-8:00pm
Saturday-Sunday
8:00am-7:00pm
Holiday Hours 8:00am-12:00pm
Childcare closes at 3:00pm for Kid's Night Out every 2nd and 4th Saturday of the month (registration required)
ClubKid Contact Number: 925-735-8500 x1020

We provide care for children ages 6 weeks to 12 years old.

CLUBKID CHILDCARE

BABY ROOM: A quiet and secluded room for ages 6 weeks to walking that will keep your infant safe from the active children on the main floor. Our baby room is equipped with 2 cribs, gliders for rocking, toys, play mats, books, and more. Don't forget to fill out a baby info sheet to let us know if your baby can use our swings, bouncer chairs, or exercise saucers!


MAIN FLOOR: Designed for children who are walking to 5 years old. The Main Floor has toys, coloring, free play, and organized activities every 30 minutes. Click Here for activities and snack information.


JUNIOR ROOM: Specifically designed for children who are ages 6 to 12 years old. There are board games, an air hockey table, G and PG rated movies, video games, books, art and craft supplies and plenty of room for your child to relax. During the school year the Junior Room is open in the afternoon and evening hours. Saturday and Sunday, Junior Room is available based upon the number of children and staff