Welcome to ClubKid!
The Childcare department is now open! Reservations are required.
Sign up for the next session: May 31st - June 13th

MAKE A RESERVATION: The Studio Director.
DIRECTIONS: Video on How to Sign Up: CLICK HERE

CONTACT NUMBER: 925-735-8500 x1020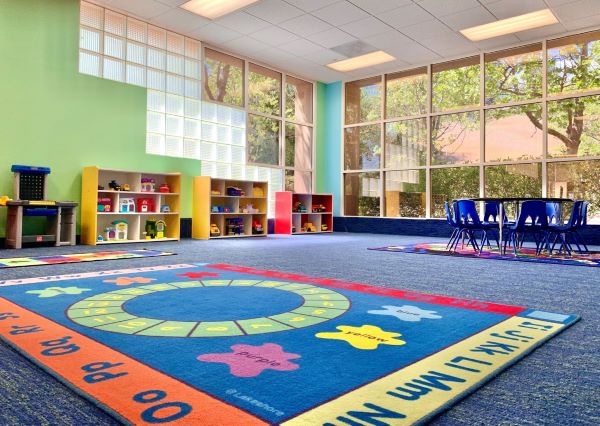 In accordance with state and county guidelines and in order to keep the children and staff healthy, your child will be placed in stable groups with the same children and staff each visit. Because of this guideline, we will be requiring sign ups on a two week basis. The schedule below is for May 31st-June 13th. We have four groups available that should align with most group fitness classes for your convenience.


Please note your child may only be registered for one group
.
Tuesday/Thursday/Saturday
We are temporarily only accepting ages 2 years – 12 years old. We are unable to accommodate children under 2 years, guests, or drop-ins at this time.
You must remain on the premises at all times while your child is checked into childcare.
Once your child's group is full for the week of May 17th-21st, your child will automatically be enrolled for the SAME group for the following week of May 24th-May 29th. After May 29th, you may enroll your child in a new group.
If your class is ending at the same time as your childcare reservation, you may still take the class, however please return promptly to pick up your child once your class is over.
Sign-up instructions are available through our

website

. Sign-Ups are completed through The Studio Director. You may also call us to assist you in making your childcare reservation.
ClubKid Regular Hours: Opening May 1st! Please check back for hours.

ClubKid Contact Number: 925-735-8500 x1020

We will provide care for children ages 2 to 12 years during this first phase of reopening.

CLUBKID CHILDCARE

BABY ROOM: (Currently Closed) A quiet and secluded room for ages 6 weeks to walking that will keep your infant safe from the active children on the main floor. Our baby room is equipped with 2 cribs, gliders for rocking, toys, play mats, books, and more. Don't forget to fill out a baby info sheet to let us know if your baby can use our swings, bouncer chairs, or exercise saucers!


MAIN FLOOR: Designed for children who are walking to 5 years old. The Main Floor has toys, coloring, free play, and organized activities every 30 minutes. Click Here for activities and snack information.


JUNIOR ROOM: Specifically designed for children who are ages 6 to 12 years old. There are board games, an air hockey table, G and PG rated movies, video games, books, art and craft supplies and plenty of room for your child to relax. During the school year the Junior Room is open in the afternoon and evening hours. Saturday and Sunday, Junior Room is available based upon the number of children and staff.
_____________________________________________
New to ClubSport San Ramon?
Click here to learn why we're San Ramon's Favorite Fitness Community!