Experience the energy and power of working out in a group. Featuring 2 group exercise studios, a cycling studio, TRX studio, and a heated pool ClubSport offers industry leading group exercise programming.
Our dynamic and innovative group exercise team strives to create an inclusive environment to challenge you to be your best everyday.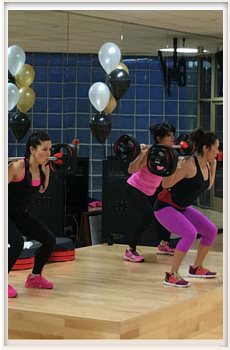 With more than 130 classes a week, our program offers something for everyone including:
Athletic and Cardio Classes, including LES MILLS Workouts: Aqua, Athlete's Blast, BODYATTACK™, BODYCOMBAT™, BODYSTEP™, Boot Camp, Step, Cycle, Sprint Body Combat, HIIT, Grinder, Beachbody
Dance Classes: Sh'Bam™, Zumba, Bombay Jam
Yoga: Yoga, Yoga Therapy, Yoga Flow, Yin Yoga, OMCycle In / Yoga Out, Roll & Release, Body Stretch, Balance
Mind & Body Classes (Other than Yoga): Pilates, Advanced Pilates, PiYo, OMCycle In / Yoga Out, Cycle+ (RIDE, RELEASE and RELIEVE), Core Contouring, Flow & Meditation, Viniasa Flow, Power Yoga
TRX Classes: TRX Basics, TRX Ultimate
JuniorFit Conditioning: Combining TRX, cycle and agility training
Click here for a more detailed description of ClubSport San Ramon's GroupFit Classes.
_________________________________________________
New to ClubSport San Ramon?
Learn more about San Ramon's Favorite Fitness Community!